Posted by
Hinskyan
on Jan 9, 2019 in
Real Estate
|
Comments Off on Roofing materials
Roofing materials can make a big difference in the way your house looks and how it is protected from the elements. Here are some things to think about.
The type of roofing materials that a person chooses for their home will make quite a difference in the appearance of their home. It will also have an impact on how it holds up over time. There are many choices available and a homeowner should take budget, sturdiness and architectural harmony into consideration when making this decision. Here are some options: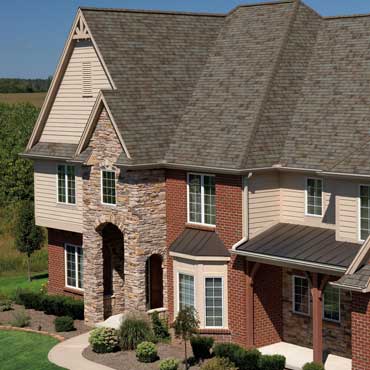 -Shingles made from asphalt: This is the most common product covering rooftops across the country. It is the choice for budget minded homeowners as it costs the least. These asphalt products are also made to last for decades. Some are guaranteed for twenty years; others for thirty years. Another layer of shingles can be laid over an existing roof twenty or thirty years from now, too. This will save money in labor as there will be no tear-off involved. These products come in an array of colors that can align with any paint and trim hue.
-Wooden shake: Wooden shakes are classy and durable. Well maintained roofs made from this product have lasted up to fifty years. Unfortunately, today's lumber is not quite as durable as that of the past so may not live up to its ancestry. There is quite a bit of maintenance, too. Mildew must be washed away on a regular basis. Clear oil finish must be applied periodically, as well. Lumber types include Alaskan Yellow Cedar, White Cedar and Red Cedar. This option is one of the more expensive choices both in terms of labor and materials.
-Slate: This product has been used a lot in the Northeast region of our country on both luxurious homes and office buildings. It is wonderful for snowy climates because the ice and flakes just slide right off. It's also very attractive and looks high dollar. It's fairly heavy so the design of the building planned to hold up substantial amounts of weight. There's also a product made from recycled rubber which is faux slate. It looks the same but costs less.
-Metal: Metal roofing also may last up to fifty years and will also allow ice and snow to slide off. Steel, copper, aluminum in corrugated sheets or metallic shingles can provide an array of looks. There are even some options that are curved to look like ceramic tile. Depending on the type chosen, metallic roofs can range from cheap to expensive. They are durable and easy to install.
-Tile: Tile shingles are quite popular in Mexico, the Southwest regions of the U.S., Italy and the Mediterranean regions. These ceramic clay products are very durable in extremely hot temperatures and handle being baked by the sun quite well. They last a long time and are attractive, to boot. They are heavy, however, so the under-structure of the roof must be sturdy enough to handle the weight. Even the lighter versions weigh 6 pounds per square foot. The heaviest in this category can be three times that heavy.
Roofing materials should be selected based on a homeowner's budget, sturdiness desired, architectural design and climate where the home is built.
Posted by
Hinskyan
on May 14, 2018 in
Business
,
Real Estate
|
Comments Off on Effective Real Estate Leads
When it comes to the real estate business, getting real estate leads is one of the main issues and problems especially for those new in this sector. I'm sure most of you have tried various marketing techniques from online marketing to the normal marketing of cold calling and handing out fliers. Well, those strategies do work but instead of wasting too much time formulating a marketing strategy again and again, why not concentrate on methods that really do work and could bring you a higher percentage of real estate leads?
Now, when we talk about real estate leads, we most invariably refer to highly motivated seller leads or even desperate buyer leads. Whichever it is, in the real estate business, we depended the most on motivated seller leads to get great below market value properties and of course, we need even more motivated buyers to get those properties off our hands so that we could earn a sizeable profit from it.
Although the current economic situation is not doing so well, I feel that it is the best time as any to get really good real estate lead companies. This is because in such trying times, there are plenty of highly motivated sellers out there and all you need are a straight path leading them to you. So, how do you do that? Here are some sure-fire and non-costly tips:
– Create a strong presence especially in the real estate sector online with a professionally set up and yet user-friendly website
– Encourage readers or visitors of your website to sign up to your website by offering free e-books in real estate investing, financial tips, on mortgages or any other topic you are comfortable with.
– Always provide them with great tips and advices on real estate management, real estate investment, even on real estate taxes so that you become a source they trust.
– Other than an online presence, start creating an in-person presence by being more prominent in your community
– Take part in community events and functions as often as possible and remember to network, network, and network! But remember; don't be too pushy as this could turn people off you.
– Distribute bold, interesting real estate fliers in your area frequently to target different segments each time so the first 100 fliers could be targeting motivated sellers while the second batch could be targeting buyers. So, yes, you will need to create different fliers for different markets.
– Dig out your own lists (especially the old ones) and start sending them emails / letters reminding them that you are still around and ever ready to help them with their real estate needs.
– Join clubs and associations and be as prominent as you can during those meetings and functions. Again, this is for networking purposes for you to distribute your business cards but remember, no hard selling or pushiness getting people to go to you when it comes to real estate.